Stainless Steel Wire Mesh
Hatong produces wire mesh/wire cloth in all kinds of forms. The weaving is determined according to our customers' specific requirements, such as the material, the wire diameter, the size of the mesh , width and length.
Material: Stainless Steel wire, Mild steel wire, Galvanized wire, Brass wire, Phosphor Bronze wire, Copper wire, Aluminum Wire, Monel Wire etc.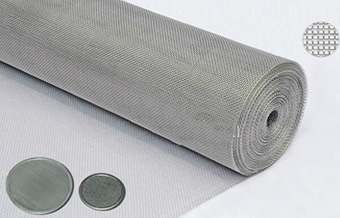 Typical Weaving Patterns: plain weave, twill weave, plain dutch weave, twill dutch weave, reverse plain dutch weave.
General Use: Our Wire Mesh can be used in many applications such as vibration & Shock absorber, gas & liquid filtration, noise damping, seal & gasket, heat insulation, EMI/RFI shielding, mist elimination & technology separation and engine catalyst etc. And it is widely used in various industries such as automobile, electronics, aviation, military, commerce, industrial consumer goods, telecommunication, medicine, test equipment and accessories etc.
Production availability:
Finest wire diameter: 0.02mm Finest mesh: 400x2800
Customized Length and width
Types of Woven Wire Cloth
MARKET GRADE - Wire Cloth Most common specifications of industrial wire cloth. Used in a wide variety of applications. Usually woven in a square weave or twill weave.
MILL GRADE - Wire Cloth Used mostly in sifting and sizing applications. Higher percent of open area compared to market grade, but less than that of tensile bolting. Usually woven in a square weave.
BOLTING GRADE - Wire Cloth Used in sifting and sizing applications and general filtration applications. It has a higher percentage of open area than both market and mill grade. It is typically used when maximum throughput is crucial. Usually woven in a square weave. Sometimes referred to as TBC or Tensile bolting cloth.

Properties of Stainless Steel Wire Mesh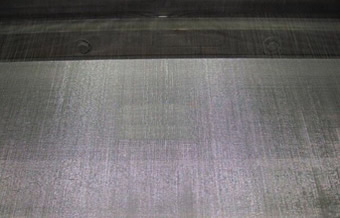 304: The basic alloy. Type 304 (18-8) is an austenitic steel possessing a minimum of 18% chromium and 8% nickel, combined with a maximum of 0.08% carbon. It is a nonmagnetic steel which cannot be hardened by heat treatment, but instead. must be cold worked to obtain higher tensile strengths. The 18% minimum chromium content provides corrosion and oxidation resistance. The alloy's metallurgical characteristics are established primarily by the nickel content (8% mm.), which also extends resistance to corrosion caused by reducing chemicals. Carbon, a necessity of mixed benefit, is held at a level (0.08% max.) that is satisfactory for most service applications.
316: For severe environments. Of course, there are many industrial processes that require a higher level of resistance to corrosion than Type 304 can offer. For these applications, Type 316 is the answer. Type 316 is also austenitic, non-magnetic, and thermally nonhardenable stainless steel like Type 304. The carbon content is held to 0.08% maximum, while the nickel content is increased slightly. What distinguishes Type 316 from Type 304 is the addition of molybdenum up to a maximum of 3%. Molybdenum increases the corrosion resistance of this chromium-nickel alloy to withstand attack by many industrial chemicals and solvents, and, in particular, inhibits pitting caused by chlorides. As such, molybdenum is one of the single most useful alloying additives in the fight against corrosion.
430: The general purpose alloy of the ferritic class and the most popular of straight chromium (17%) stainless steels. Has magnetic properties similar to carbon steel but with much higher corrosion resistance. Commonly used in the food processing industry.
Mesh Count

Wire Diameter

Opening Size

Open Area

Stainless Steel Weight

(inches)
(mm)
(inches)
(mm)
Percentage
per 100 S / F
16 x 16
0.0090
0.2286
0.0535
1.359
73.3%
8.38
18 x 18
0.0090
0.2286
0.0466
1.183
70.2%
9.48
20 x 20
0.0090
0.2286
0.0410
1.041
67.2%
10.54
22 x 22
0.0075
0.1905
0.0380
0.964
69.7%
8.03
24 x 24
0.0075
0.1905
0.0342
0.868
67.2%
8.75
26 x 26
0.0075
0.1905
0.0310
0.786
64.8%
9.54
28 x 28
0.0075
0.1905
0.0282
0.717
62.4%
10.29
30 x 30
0.0065
0.1651
0.0268
0.682
64.8%
8.35
32 x 32
0.0065
0.1651
0.0248
0.629
62.7%
8.93
34 x 34
0.0065
0.1651
0.0229
0.582
60.7%
9.51
36 x 36
0.0065
0.1651
0.0213
0.540
58.7%
10.09
38 x 38
0.0065
0.1651
0.0198
0.503
56.7%
10.69
40 x 40
0.0065
0.1651
0.0185
0.470
54.8%
11.29
42 x 42
0.0055
0.1397
0.0183
0.465
59.1%
8.44
44 x 44
0.0055
0.1397
0.0172
0.438
57.5%
8.85
46 x 46
0.0055
0.1397
0.0162
0.412
55.8%
9.28
48 x 48
0.0055
0.1397
0.0153
0.389
54.2%
9.71
50 x 50
0.0055
0.1397
0.0145
0.368
52.6%
10.14
52 x 52
0.0055
0.1397
0.0137
0.349
51.0%
10.57
54 x 54
0.0055
0.1397
0.0130
0.331
49.4%
11.01
58 x 58
0.0045
0.1143
0.0127
0.324
54.6%
7.84
60 x 60
0.0045
0.1143
0.0122
0.309
53.3%
8.13
62 x 62
0.0045
0.1143
0.0116
0.295
52.0%
8.42
64 x 64
0.0045
0.1143
0.0111
0.283
50.7%
8.72
70 x 70
0.0037
0.0940
0.0106
0.269
54.9%
6.4
72 x 72
0.0037
0.0940
0.0102
0.259
53.8%
6.6
74 x 74
0.0037
0.0940
0.0098
0.249
52.7%
6.79
76 x 76
0.0037
0.0940
0.0095
0.240
51.7%
6.99
78 x 78
0.0037
0.0940
0.0091
0.232
50.6%
7.19
80 x 80
0.0037
0.0940
0.0088
0.224
49.6%
7.39
84 x 84
0.0035
0.0889
0.0084
0.213
49.8%
6.94
90 x 90
0.0035
0.0889
0.0076
0.193
46.9%
7.48
94 x 94
0.0035
0.0889
0.0071
0.181
45.0%
7.84
105 x 105
0.0030
0.0762
0.0065
0.166
46.9%
6.41
120 x 120
0.0025
0.0635
0.0058
0.148
49.0%
5.07
145 x 145
0.0022
0.0559
0.0047
0.119
46.4%
4.77
165 x 165
0.0019
0.0483
0.0042
0.106
47.1%
5.05
200 x 200
0.0016
0.0406
0.0034
0.086
46.2%
3.48
230 x 230
0.0014
0.0356
0.0029
0.075
46.0%
3.06